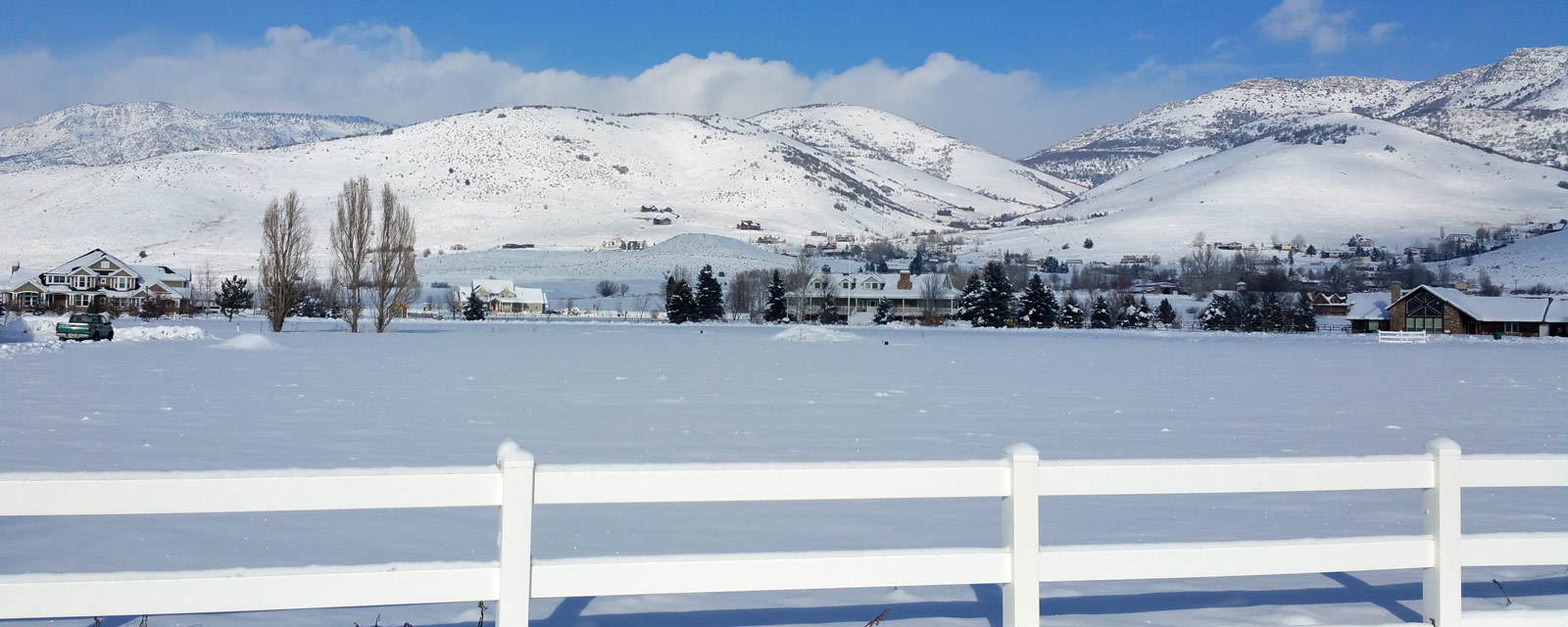 The Ogden Valley
The Ogden Valley is a high mountain valley located in the eastern section of Weber County (pronounced Weeber not Webber) in Northern Utah. "The Valley" is situated in the Wasatch Mountain Range approximately 12 miles east through Ogden Canyon from Ogden City and 45 miles Northeast of Salt Lake City (map). The Valley, in geologic terms is a "fault trough" 12 miles long by 3 miles wide.
Three forks of the Ogden River, North Fork, Middle fork and South Fork drain into Pineview Reservoir. The reservoir is regulated by a dam in the SW corner of the Valley, at the top of Ogden Canyon. At its peak in early spring, Pineview is approximately 2900 acres in size.
There are three towns in the Upper Ogden Valley: Liberty (84310) in the north, Eden (84310) in the center and Huntsville (84317) in the south.
What's so special about the Ogden Valley? To name just a few things: A beautiful small valley surrounded by mountains with a reservoir, 3 ski areas, an excellent trail system (Ogden Valley Pathways!), great parks, great people, an outdoor community most of whom are friendly and genuine, an area which is not too crowded, all within an hour of Salt Lake City and the airport.
Pineview Reservoir is a popular recreation source known for excellent water skiing, wakeboarding, boating, fishing, kiteboarding, swimming, paddleboarding, and more. The water level varies dramatically from spring to fall, up to approximately 2900 acres of area when water reaches the high water mark.
There are three ski areas in and around the Ogden Valley. Snowbasin Resort, Powder Mountain Resort and Nordic Valley Resort.
The most popular and luxurious for many enthusiasts, is Snowbasin Resort to the south along the Weber Co. and Morgan Co. line, most of which technically, is in Huntsville. "Basin" as locals refer to it, underwent a major transformation to host the Men's and Women's Downhill, Super G, and Combined ski events in the 2002 Olympics. With close to a 3000' vertical rise, 104 runs, 3000 skiable acres, and excellent balance between beginner, intermediate and expert terrain, there is plenty of amazing skiing/barding for every ability level. Basin's infrastructure is truly luxurious and top quality, from the lifts, to lodges, to the state of the art snowmaking system, and exceptional grooming. Presently owned by the Holding family and situated just 33 miles NE of Salt Lake City, a fantastic resort.
Powder Mountain Resort, a longtime local favorite, was acquired by Summit in 2013. "Powmow" is a throwback to the past, with plenty of kicked back 70's vibe, the way ski areas used to be. As the name implies, plenty of powder here during most winters. Powmow is located 15 minutes or so outside of downtown Eden, on the border of Weber and Cache Counties. The average elevation is significantly higher than Snowbasin, with much fewer people. Access to and from the mountain can be much more difficult and time consuming, especially when the weather is intense. The access road is truly a Double Black Diamond! Well worth it, with over 7000 acres of skiable terrain, snow cat serviced powder skiing, 2500 vertical feet of inbounds skiing/riding, and 144 runs, this area is huge, with plenty of epic skiing and riding! With Summit as the new owners, the area is in flux, and it will be interesting to see how the new direction and development plans for approximately 500 homes and village, along with their ownership around Wolf Creek, actually work out. As an organization, I admire Summit's vision, philosophy, resources and global impact. As stewards of this amazing resource, Powder Mountain Resort, what changes will the ski area experience as well as the Ogden Valley?
Nordic Valley Resort is another throwback to the way winter resorts used to be. Purchased by Valley Skyline Mountain Base, LLC in 2014, this relatively small Ogden Valley resort with fun terrain is located in Eden/Liberty, UT. Nordic Valley lights up the sky at night and has some of the best, if not the best, night skiing/riding in Utah. Extremely affordable and community driven, the area capitalizes on fun and has a friendly, laid back feel, filling a much needed niche in the area. Nordic Valley Resort has plans for expansion in the future and is a great value and community resource.